Alocasia macrorrhiza
Giant Taro
£22
Easy-care
Sun-lover
FREE scheduled deliveries on orders over £50
The Giant Taro, or Alocasia macrorrhiza, is an exotic plant native to tropical Southeast Asia. Resembling the ears of an elephant, dramatically large, prominently-veined, ruffled leaves are borne on rigid stalks. This is a fast-growing, impactful indoor plant that will make a statement in your home or office.
Height is measured from the bottom of the plastic nursery pot (please allow a +/-10% variance). Diameter is the nursery pot diameter, so to get a pot that fits, the pot diameter should be bigger.
Choose your delivery day during checkout, and we'll give you a 2-hour delivery window on the morning of your delivery. We offer 14 day returns for living products, 30 day returns for most other items and 3 day returns for Christmas Trees.
Price match promise on plants
London's #1 online garden centre
Hand-delivered on a day that suits
To see me at my best
Place me somewhere with indirect sunlight and let the top third of my soil dry out between waterings.
Water me when the top third of my soil is dry.
Regularly wipe my leaves to remove dust and help me absorb light.
Feed me with diluted liquid fertiliser every two to three weeks from spring to autumn.
About Giant Taro
History
The Giant Taro is a species of flowering plant in the Araceae family, a group of plants first grouped together in 1858 by Austrian botanist Heinrich Wilhelm Schott. Giant taro is a food staple for over three hundred million people worldwide. The corm of the plant is peeled and boiled and provides an important source of carbohydrates. The leaves are also eaten as a vegetable rich in vitamins.
Cultivation
In the wild, the Giant Taro is found in wet and warm rainforest environments where it enjoys moist nutrient-rich soil and filtered sunlight. As a fast-growing plant, the Giant Taro can reach heights of up to 12 feet in its natural habitat.
Care
Giant Taro should be kept in a bright room in indirect sunlight. Singed or bleached leaves are a sign of sun damage. Giant Taro can be a thirsty pant in warmer months and the bottom two-thirds of soil should be kept moist. During the growing season feed with a liquid fertiliser every two to three weeks.
Did you know?
Giant taro has the largest unsplit leaf of any plant reaching up to two metres long. The giant leaves have evolved to absorb the small amount of light that breaks through the rainforest tree canopy.
Toxicity
If ingested this plant can be toxic or poisonous so keep away from dogs, cats or other pets and small children.
Also Known As
Giant Ape; Giant alocasia; Biga; Upright elephant's ear; Giant elephant ear
5.00


Based on 1 reviews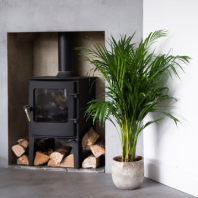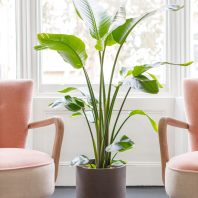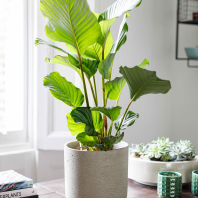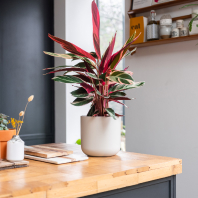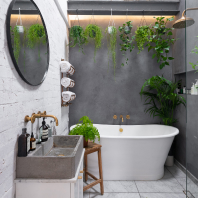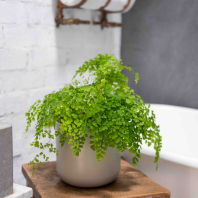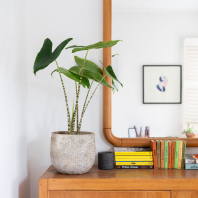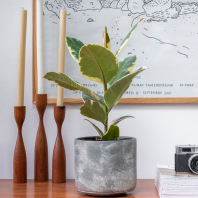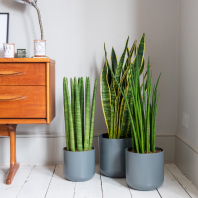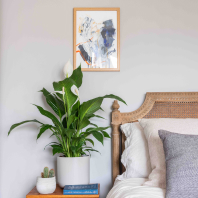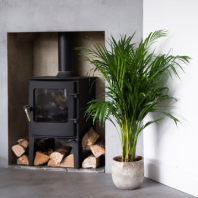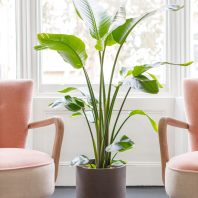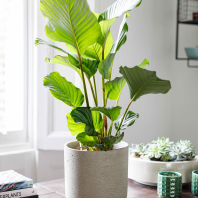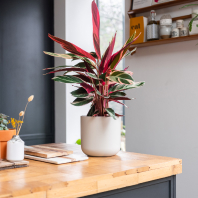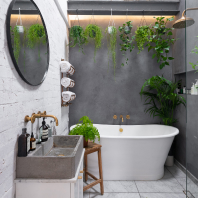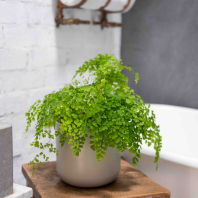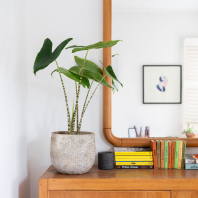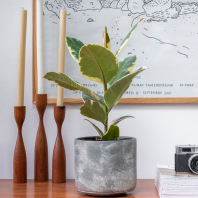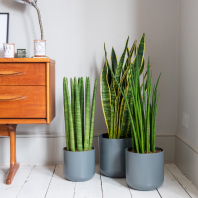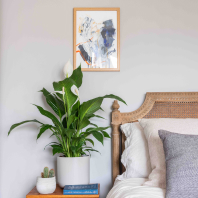 Verified Customer
mark m
Giant Taro
It's beautiful