Calathea lancifolia 'Insigne'
Calathea Rattlesnake Plant
From £10
Easy-care
Indirect sun
Pet safe
FREE scheduled deliveries on orders over £50
Calathea Rattlesnake or Calathea lancifolia are tropical plants with wavy rattlesnake shaped leaves, with a deep burgundy underside and vibrant green patterned top side. These beautiful indoor plants provide a colour filled focal point in any room. Similarly to other Calatheas, they need indirect light or light shade, a lot of humidity and constant soil moisture to thrive; so either keep them in a bathroom or kitchen or next to a humidifier.
Height is measured from the bottom of the plastic nursery pot (please allow a +/-10% variance). Diameter is the nursery pot diameter, so to get a pot that fits, the pot diameter should be bigger.
Choose your delivery day during checkout, and we'll give you a 2-hour delivery window on the morning of your delivery. We offer 14 day returns for living products, 30 day returns for most other items and 3 day returns for Christmas Trees.
Price match promise on plants
London's #1 online garden centre
Hand-delivered on a day that suits
To see me at my best
Keep me in a humid spot like your bathroom or kitchen and out of direct sunshine. Give me small amounts of filtered water regularly.
Keep me in bright, indirect light or light shade but out of direct sunshine.
Mist me regularly or keep me in a humid place like a kitchen or bathroom.
Water me little and often, so that my soil feels moist but not waterlogged.
About Calathea Rattlesnake Plant
History
Calatheas are held in high esteem due to their incredible range of colours and shapes. Native to tropical jungles of the Amazon, as houseplants they provide a centrepiece of colour and interest. In South America, Calatheas play a key role in local culture as they have a wide range of uses including transporting food, making roofs for houses, as well as for medicinal properties. While they are popular houseplants, due to habitat destruction in their native South America they are becoming increasingly threatened in the wild.
Cultivation
In the wild Calatheas live on the jungle floor and have adapted to thrive below the canopy. They have big leaves with a wide surface area to capture any water that leaks down from the canopy above and the light that prisms from higher up. Many Calatheas follow a process called nyctinasty, where their leaves furl up at night and unfurl at dawn following a circadian rhythm. It is believed they do this to follow the sun through the sky and absorb as much light as possible.
Care
To give Calatheas the best chance of thriving it's important to recreate the conditions of their native habitat. They should be kept out of direct sunshine, by a north-facing window or set back from the window in a bright room. Calatheas love high humidity, making them perfect for a kitchen or bathroom. They like to have constantly moist but not wet soil, so it is best to water them little and often. They can also be fussy with the type of water, so rainwater or filtered water is best. They also hate the cold, so avoid exposure to any temperatures below 15 degrees centigrade.
Did you know?
Calatheas are said to symbolise a new beginning as each day their leaves furl up in the evening and unfurl in the morning. It is said that the phrase turning over a new leaf comes from this behaviour.
Toxicity
This plant is non-toxic so although not advised should pose no harm if accidentally chewed or eaten by your furry friends.
5.00


Based on 1 reviews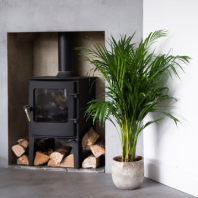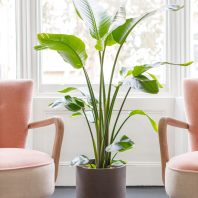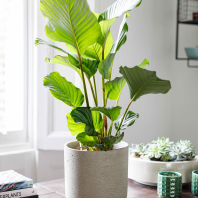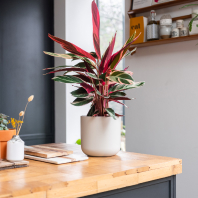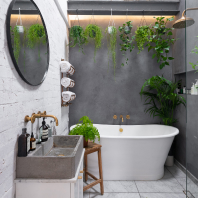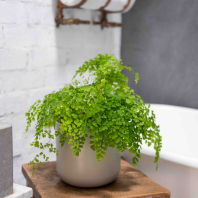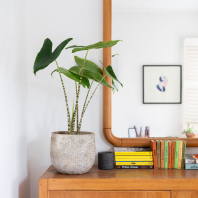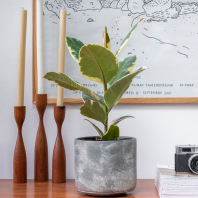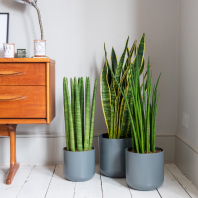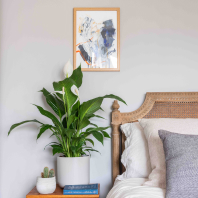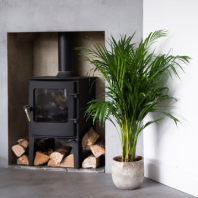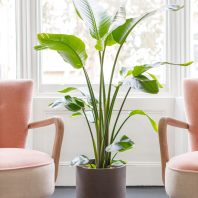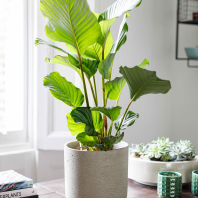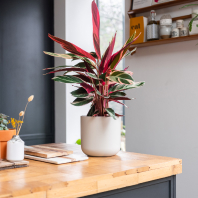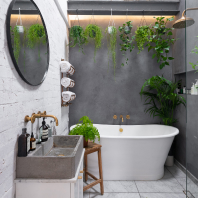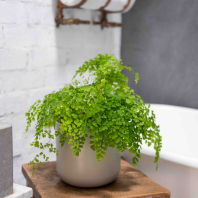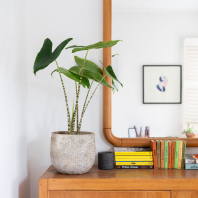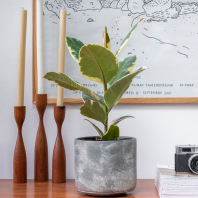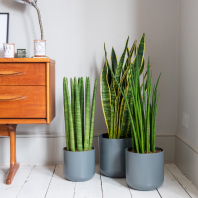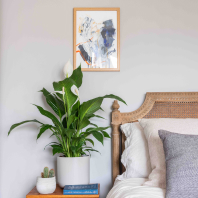 Verified Customer
Kate B
Calathea Rattlesnake Plant