Alocasia zebrina
Elephant Ear Zebrina
From £15
Intermediate
Sun-lover
Top gift
FREE scheduled deliveries on orders over £50
The Elephant Ear zebrina or Alocasia zebrina is a statement plant with zebra-striped bouncy stems holding its dark green arrow shaped leaves. This stunning plant is a real head turner and will bring the jungle vibe into your home.
Height is measured from the bottom of the plastic nursery pot (please allow a +/-10% variance). Diameter is the nursery pot diameter, so to get a pot that fits, the pot diameter should be bigger.
Choose your delivery day during checkout, and we'll give you a 2-hour delivery window on the morning of your delivery. We offer 14 day returns for living products, 30 day returns for most other items and 3 day returns for Christmas Trees.
Price match promise on plants
London's #1 online garden centre
Hand-delivered on a day that suits
To see me at my best
Put me in a sunny spot in a kitchen or bathroom. Water me thoroughly when my soil is dry.
Rotate me regularly to ensure I get even light.
Water me less often in winter to avoid overwatering but do not allow my soil to dry out.
Remove dust by wiping my foliage regularly and hosing me down in the shower every few weeks.
About Elephant Ear Zebrina
History
Alocasia is native to the tropical rainforests of southeast Asia, with a particularly high population found in Borneo. In the wild, some species can reach heights of up to four metres tall. In some parts of Asia Alocasia species have been grown for their edible starchy tubers and have been an important staple food for thousands of years. Alocasia became a popular houseplant in the 1950s.
Cultivation
Alocasia is a member of the Arum family and consists of about 70 species as well as dozens of hybrids cultivars. Alocasia plants are popular due to their incredible range of leaf shape, size and colour. Alocasia plants have rhizomes (underground plant stems) from which new leaves appear, even if the plant has lost all of its above-ground leaves.
Care
In their native habitats, Alocasia lives in very humid and warm tropical conditions. They are exposed to a range of light conditions, from bright indirect light (broken by tree canopies) to full direct sunshine. In UK homes, they need as much light, humidity and warmth as possible. They can be temperamental during winter, as exposure to freezing or dry conditions can cause significant damage.
Did you know?
The Alocasia is said to be "the tree that grows up to the heavens" and is the plant found in the fairytale of Jack and the Giant Beanstalk.
Toxicity
If ingested this plant can be toxic or poisonous so keep away from dogs, cats or other pets and small children.
5.00


Based on 2 reviews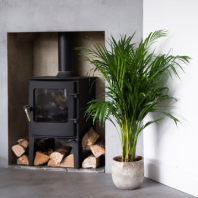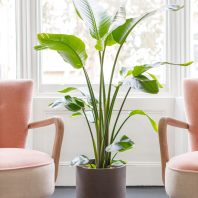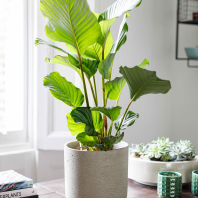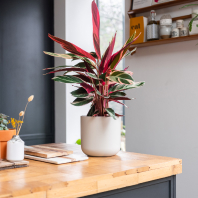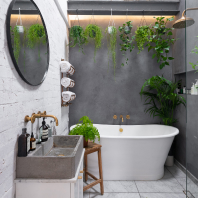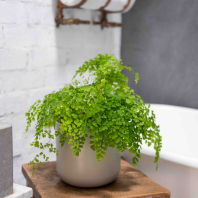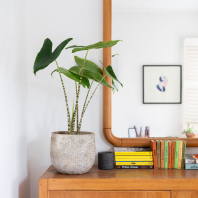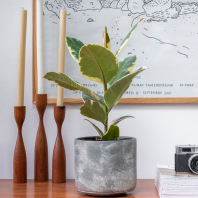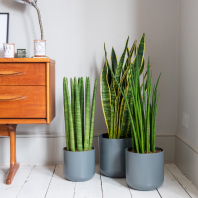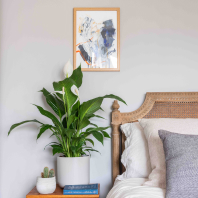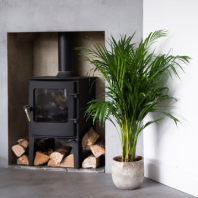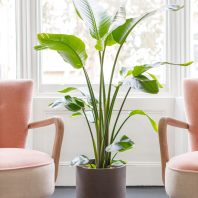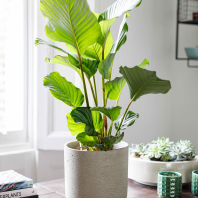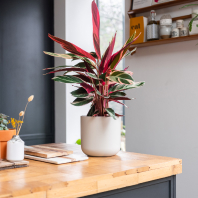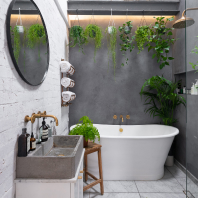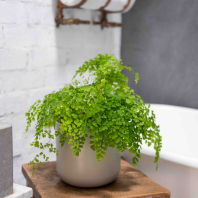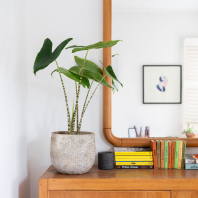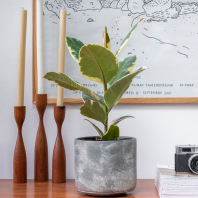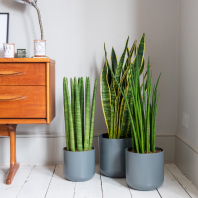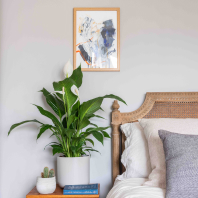 Verified Customer
Sawyer J Verified Customer
Angie W